Welcome to Red Clay Nutrition Services
The Red Clay Summer Meals Program will be operating for tomorrow, August 4, 2020, with some changes noted below due to the impending weather. For Tuesday, August 4, 2020 only:
- The Red Clay Food truck will not be operating. Community members who typically get meals from the food truck are encouraged to visit any of the following school sites listed below to obtain meals for their children, 18 years of age and under.
- The following school sites will be serving meals from 11:30 a.m. – 1:00 p.m. All seal service staff will remain inside the building with service to members of the community from a designated entrance as listed below. There will be no meal service set up outside the schools. All meal service participants coming to obtain a meal are required to wear a facemask per CDD guidelines. For additional information, please call the Red Clay Nutrition Office at 302-992-5580.
| | |
| --- | --- |
| SCHOOL | SERVING LOCATION FOR TUESDAY, AUGUST 4, 2020 |
| Stanton Middle School | Gymnasium school entrance (located in front of the building to the right of the main school lobby entrance) |
| Marbrook Elementary School | Main school lobby entrance |
| Baltz Elementary School | Main school lobby entrance |
| Richey Elementary School | Main school lobby entrance |
| Richardson Park Elementary School | Main school lobby entrance |
| Lewis Elementary School | School Entrance located W. 10th St. across from Cool Springs Park |
| Warner Elementary School | School Entrance located on W. 19th St., accessible from inside the back parking lot entrance closest to N. Van Buren St. |
Click here if you are interested in learning how to apply for free meals at school for your child
Watch How to Make Our Roasted Vegetables!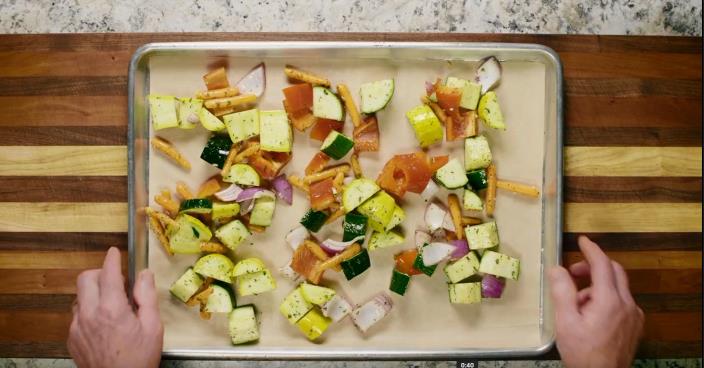 Click on the links below to view pictures from the schools
Welcome to our nutrition and fitness website, where learning more about good nutrition and fitness is at your fingertips! This site has been designed to provide abundant resources to parents, students, and teachers about healthy eating and activity. To navigate the website, click on a topic of interest on the toolbar above (Home/Menus/etc.). We hope you enjoy the new website! If you experience any difficulty navigating the website, please contact Jessica Farrand at 302-992-5580 for more information.
We know that good nutrition and learning go hand in hand. The Child Nutrition Program of the Red Clay School District is committed to providing well-balanced meals that contribute to the health and well-being of our students. Breakfast and lunch are available in all schools. Free and reduced price school meals are available to eligible students. Click here for more information.
The Nutrition Services department is made up of a team of food and nutrition professionals that are dedicated to students' health, well being and their ability to learn. We support learning by promoting healthy habits for lifelong nutrition and fitness practices.
NEW! Cafeteria Keypad and PIN Number Practice for New Students CLICK HERE
Check Out What Else is New in School Nutrition by Clicking on the "What's New" Tab Above.
The program is managed in accordance with The National School Lunch Act, policies established by the Red Clay School District Board of Education, the Department of Health, and the Delaware Department of Education.
Food and beverages sold or served at school meet the nutrition recommendations of the U.S.Dietary Guidelines. We provide students with access to a variety of affordable and appealing foods that meet the health and nutrition needs of students.
To learn more about school meals and how to get involved, visit TRAY TALK
All feedback regarding our school meals is always appreciated. If you are a parent or student not on the advisory board please submit your feedback to: Jessica.Farrand@redclay.k12.de.us Note: this email does not take any requests for Paypams or other student account needs.