RED CLAY NUTRITION SERVICES EMPLOYEE OF THE MONTH
2016-2017 Past Winners
APRIL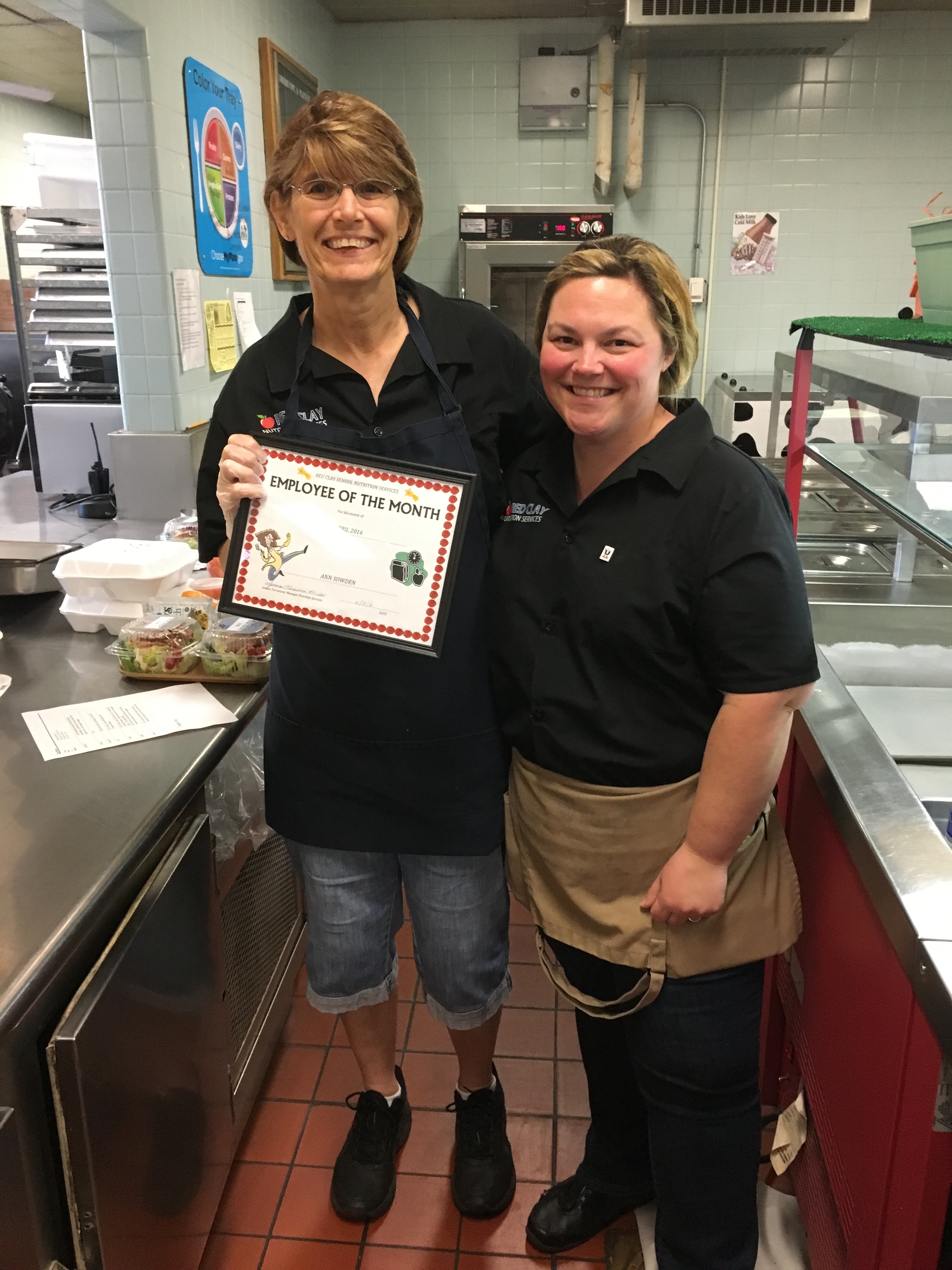 Ann Sowden - Stanton Middle School
Ann does a fine job in the kitchen. She is wonderful with the staff and children. Always pleasant and friendly. Ann jumps in to help in any way she can. I would like to see Ann recognized for her outstanding commitment to her job in Red Clay Nutrition Services.
MARCH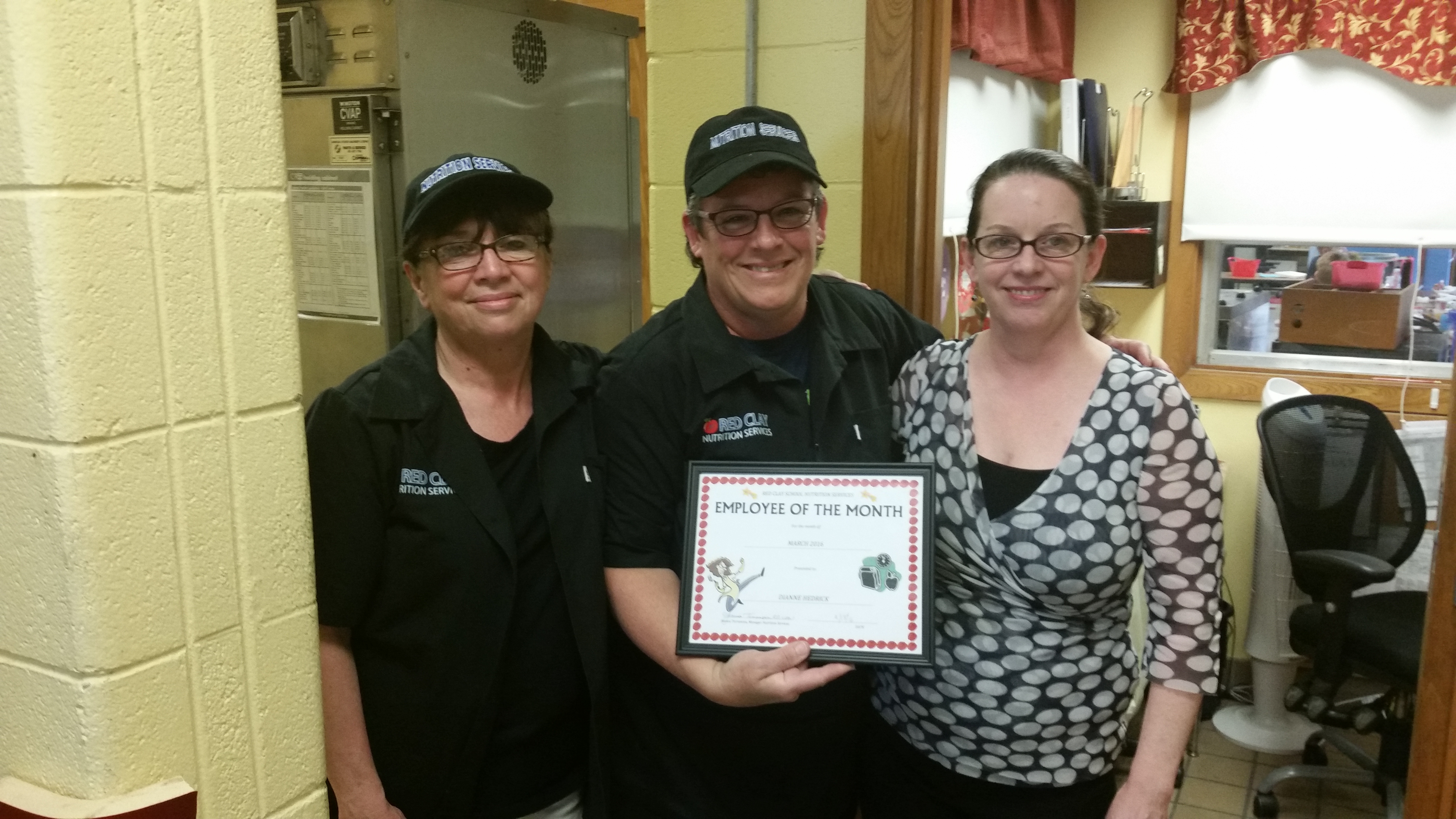 Dianne Hedrick - Heritage Elementary School
Dianne comes to work happy and ready to work each day. She is a team player and pitches in where ever and whenever needed. She does the decorating for the serving area and is an asset to the Heritage kitchen.
DECEMBER

Chris Haug - Red Clay Nutrition Department Drive
The driver [Chris] at McKean that delivered breakfast and lunch-PHENOMENAL. My counselors said he was great and always made sure that we got our food and thanks so much to all of those who prepared it-The parents and campers were very happy and appreciative. ~Heather Mergenthaler from NCC Delaware
NOVEMBER
Christopher Attix - Lead Worker Cooke Elementary School
Chris directs his co-workers to have a smooth running and positive atmosphere in the kitchen. He is always ready to work and helps his fellow employees if needed. Chris understands all meal regulations and is ready to be challenged by taking on new tasks. Chris interacts with all students by name and also has great rapport with administration in the building. He takes pride in all his cooking and staff.
~Chris Manniel and Danielle Aguanno
OCTOBER

Alyssa Ryan, Lead Worker Stanton Middle
Alyssa is very dedicated to the students at Stanton. Alyssa comes to work daily an hour early to ensure the students get their breakfast on time. Alyssa is also very good with following the recipes and directs her co-workers to have a smooth running and efficient kitchen. ~ Beverly Sutton, Cafeteria Manager
2014-2015 PAST WINNERS
APRIL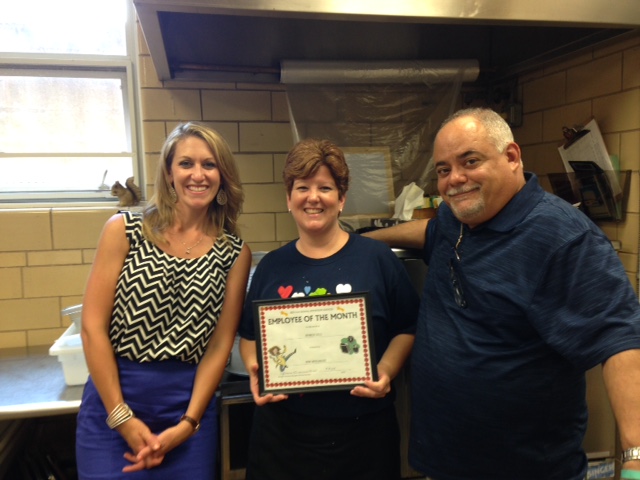 Kim Wolanski
MARCH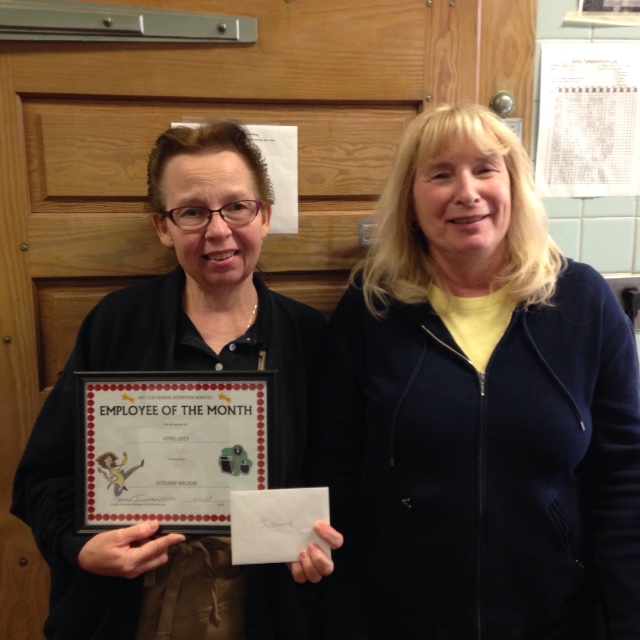 Suzanne Wilson
Suzanne is a tremendous asset to our kitchen and District. Suzanne follows all recipes, helps all other staff in any way needed without being asked. Especially when shorthanded, she steps up even more to make sure that all lunch lines flow easily and the students eat on time. All of the staff here just love to be on the same team as Suzanne and feels she deserves to be Employee of the Month.
FEBRUARY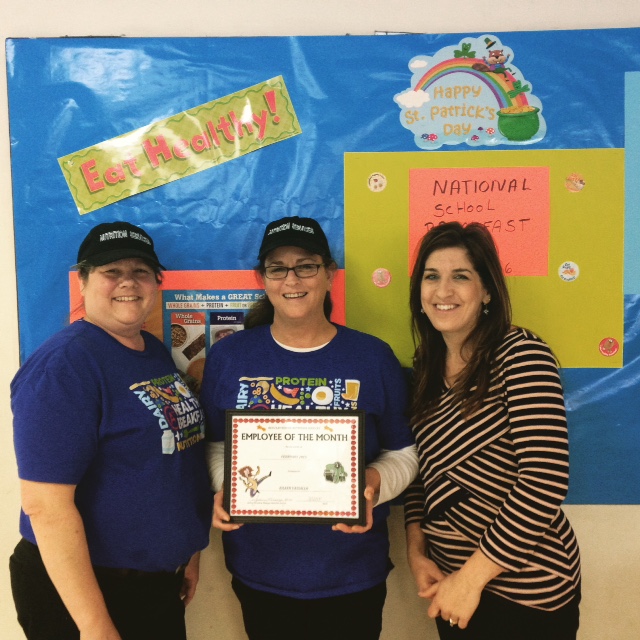 Eileen Vassallo
This year Eileen became a 6 hour worker and has really stepped up to the plate. Eileen is a motivated employee – she completes morning prep responsibilities and serves/cashiers breakfast. She is automatically assigned acting lead any time our lead is absent; and has never declined this task. She is willing to pitch in – even after hours on her own time; never expecting anything in return. She has an excellent rapport with students, teachers and staff and is often a "go to" person in many instances. She is knowledgeable about her job and has overcome many obstacles and always manages to keep her cool. She deserves this recognition because she is a valuable employee and friend to all ~Connie Maguire, Cafeteria Manager
JANUARY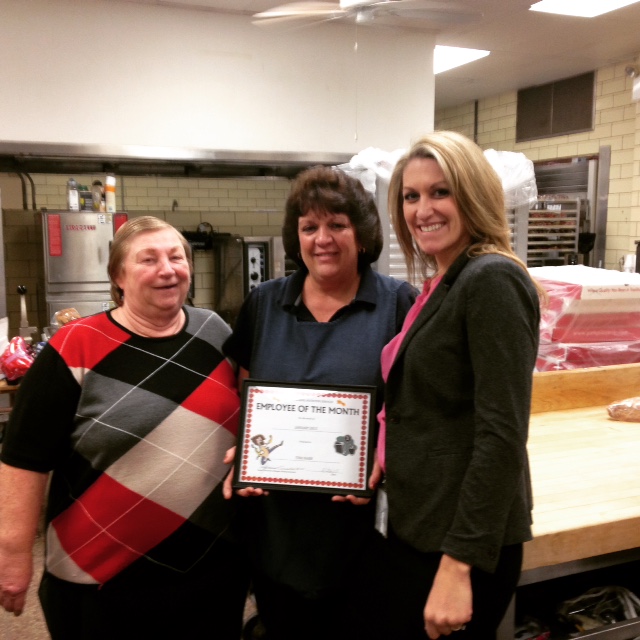 Tina Nabb
Tina is a dedicated worker, coming in early and leaving late without any complaints. When I approach her with new items or things that have to be done she does not complain but says all we can do is try it. She is a hard worker and her employees that she works with always give her the respect that she deserves. I have worked with her for the past 7 years and she always has a smile on face no matter what kind of day she is having. I really think she deserves employee of the month. ~Marge Gebhart, Cafeteria Manager
DECEMBER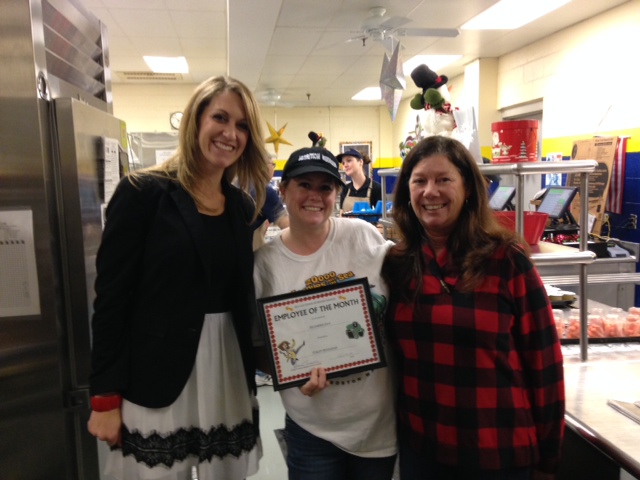 Stacey works very hard and still makes time to promote all School Nutrition events. Her spirit and passion is very special to our program. I feel she deserves this nomination.
~Maria Day, Assistant Manager
2014-2015 Past Winners
November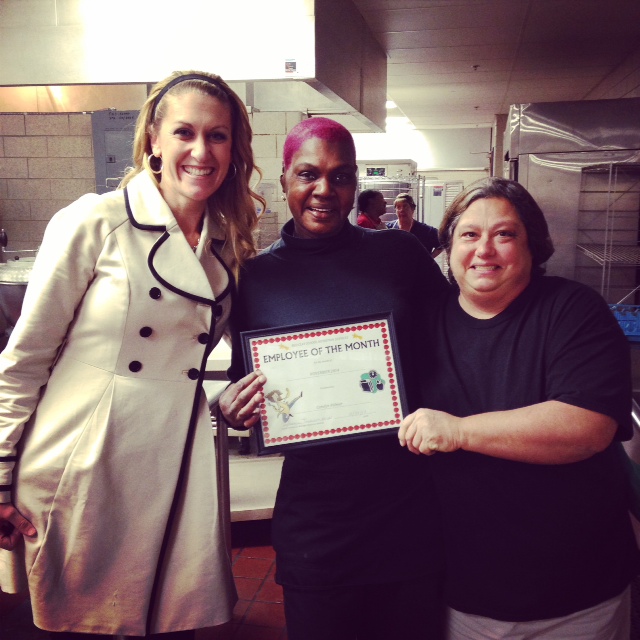 Carolyn is a happy, friendly employee. She has excellent attendance, knows her job and does it well. She is friendly and out going with staff and students. She has a smile on her face and kindness to all she meets. She is an excellent server and does a good job with daily smart temps.
~Doretta Saxton, Wilmington Cafeteria Manager
OCTOBER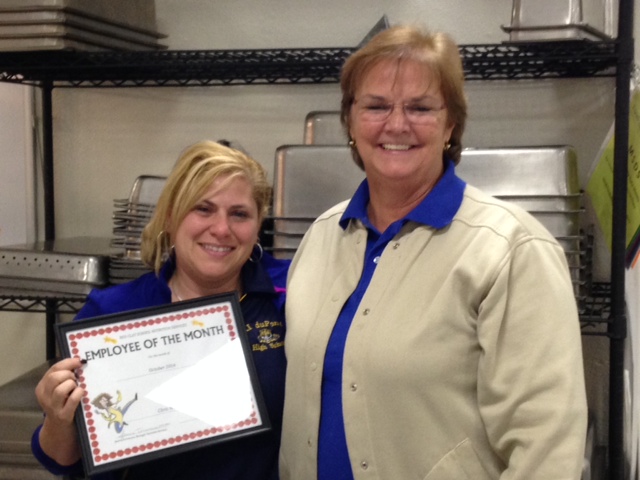 Chris Manniel
SEPTEMBER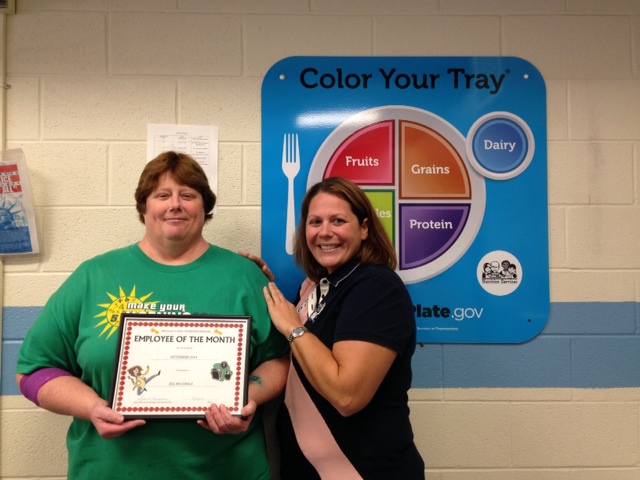 Jill McCorkle
Jill is an exceptional Lead and should be acknowledged for the great job she has done this year. As a Manger in this district I have been placed at several schools throughout my career and I can truly say that Jill has demonstrated to be the best of the best.
~Danielle Aguanno
2013-2014 PAST WINNERS
March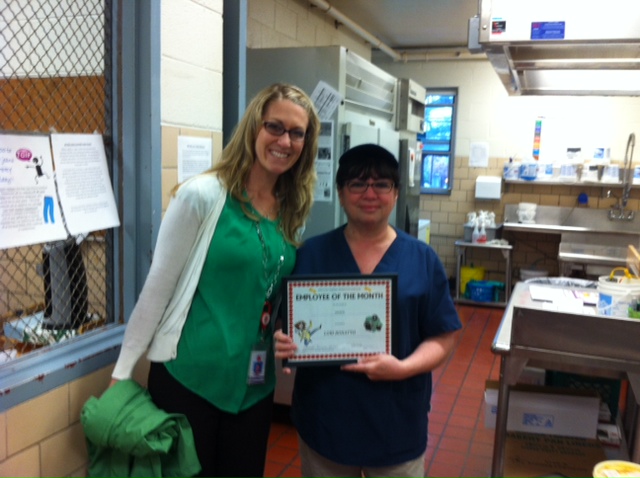 FEBRUARY 2014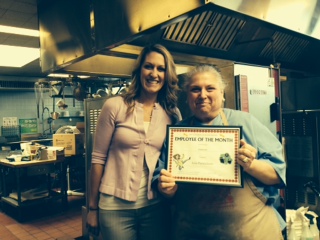 JANUARY 2014

Addi Martinez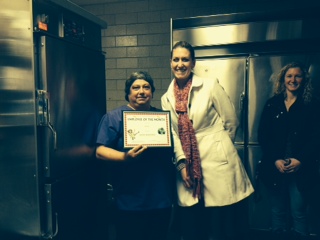 Addi is one of the most even tempered, easy going, fair minded people I have ever met. She is very knowledgeable about her job. A great trainer and hard worker.
DECEMBER 2013

KAREN TALMO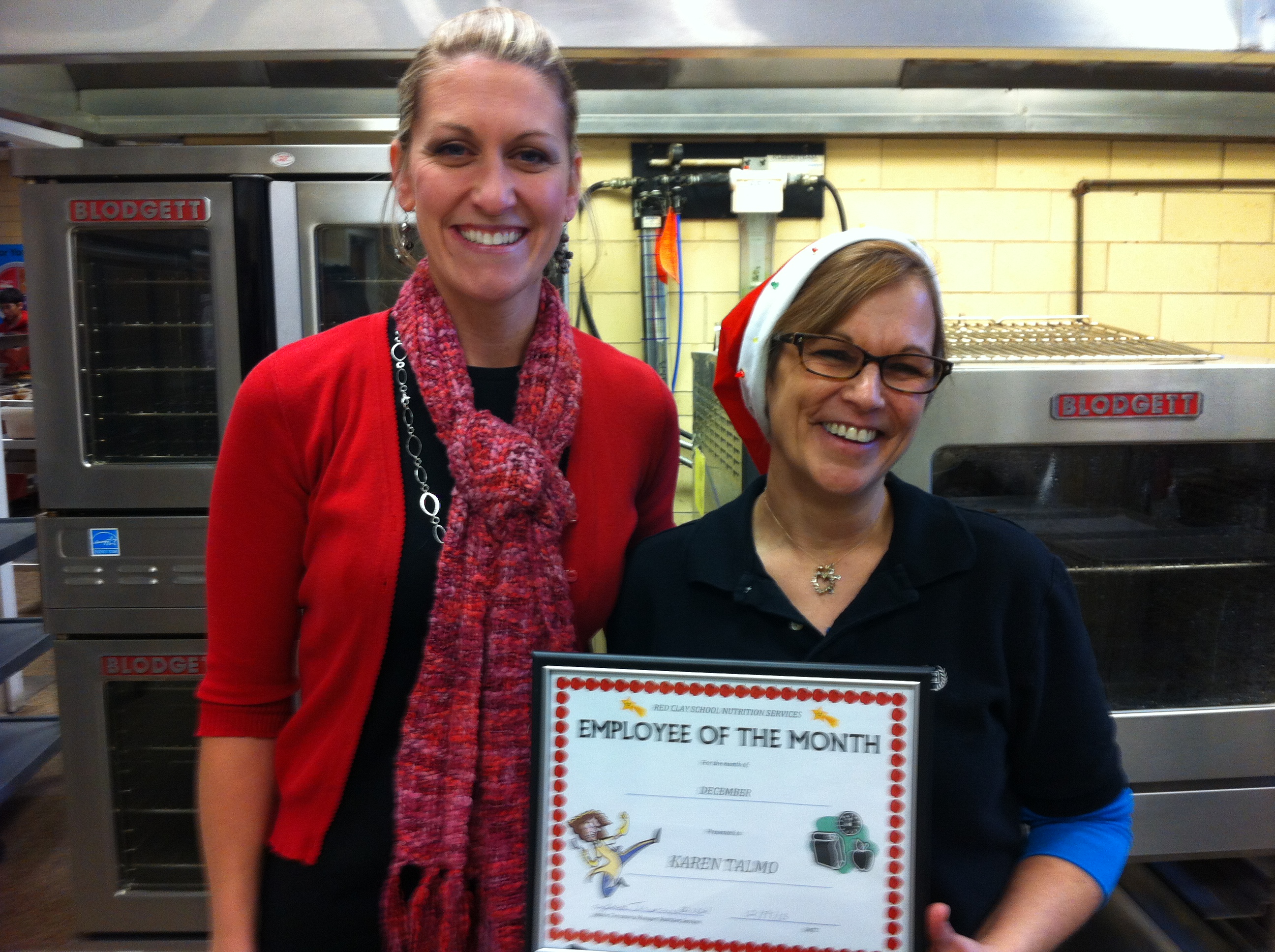 "Karen has done an excellent job assisting me [Robery, Cafeteria Manager at Conrad] in implementing the changes that I have put in place at Conrad. She has been proactive in looking ahead at things that would work well as well as things that do not work.
NOVEMBER 2013
DEEN MAHONEY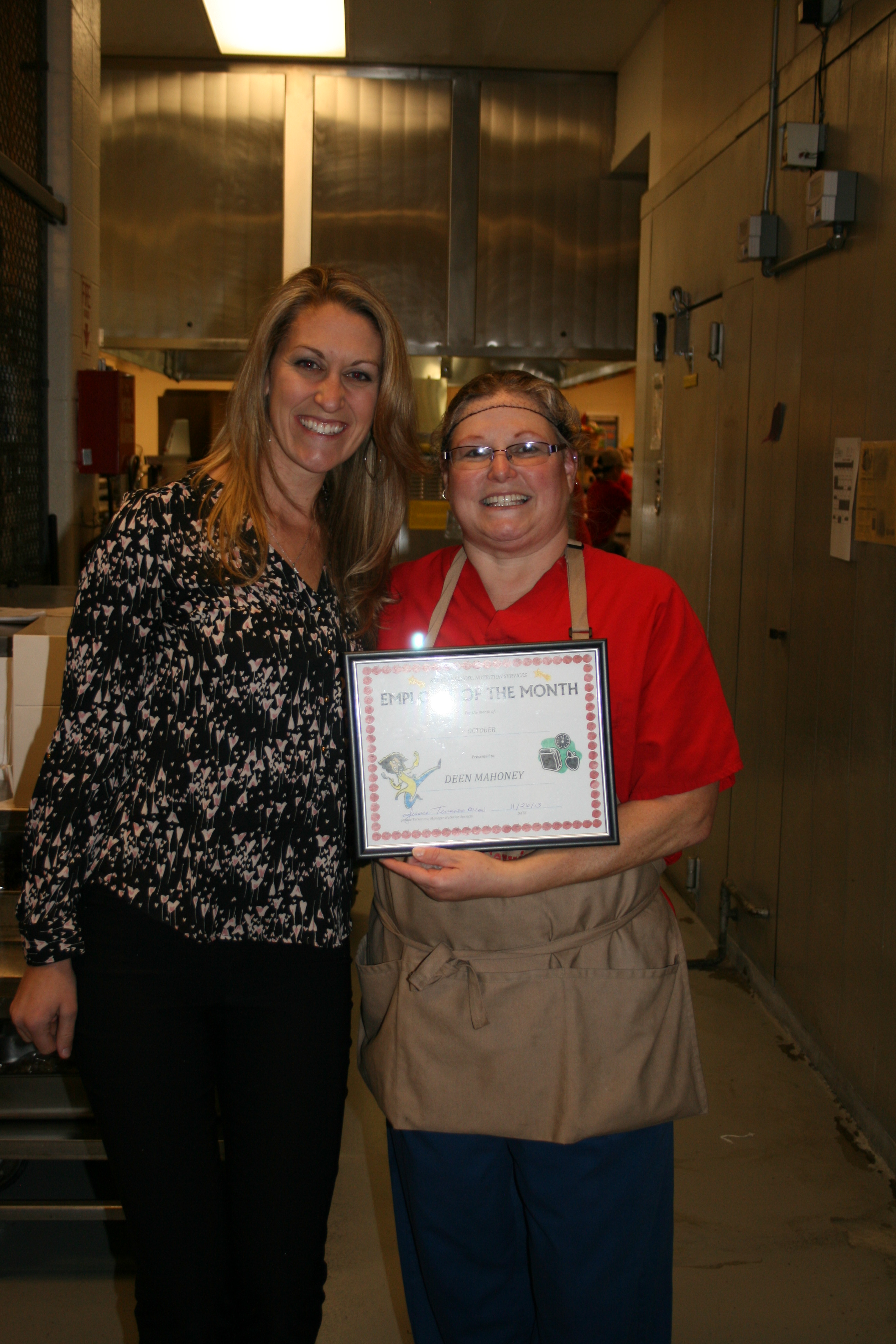 Deen went above and beyond during NSLW, working on her own time to decorate the kitchen and cafeteria. She is always willing to do whatever is necessary and consistently delivers great customer service to the students, teachers and administrative staff and is a great team player in the kitchen.
OCTOBER 2013
MELANIE ROBERTS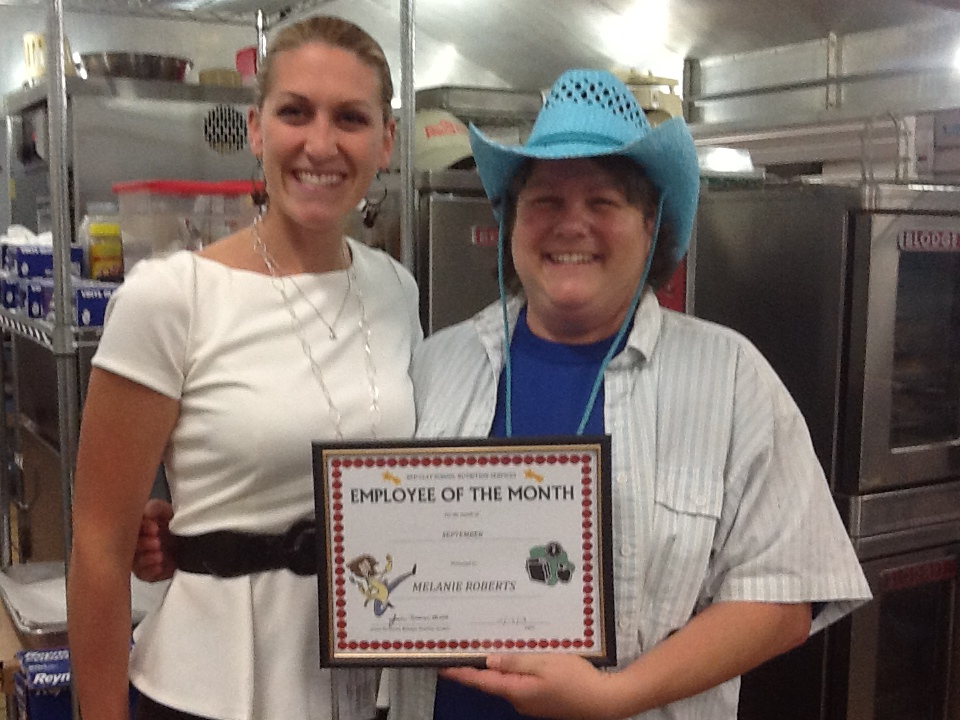 Melanie is a dedicated and enthusiastic employee. She decorates the Cafeteria with beautiful seasonal items; even spackled and painted – on her Summer vacation!! She even has her own bulletin board in which she highlights school news, nutritional information or even encouraging good-bye & good luck wishes to graduating classes. She leads the team at Brandywine Springs and has an excellent rapport with the teachers and administrators. But the #1 reason she should be employee of the month is that she is HUMBLE and glad to do all of these things to service our students in Red Clay!